We're a team of highly creative, proven professionals who build marketing communication programs, launch media campaigns and champion causes for stakeholders in the healthcare industry.
Positively influencing your markets & the court of public opinion to advance your values & strategic goals is our passion.
Discover the Value of a Virtual PR Agency
We thrive by serving clients through a virtual business model which features a tested network of seasoned communicators & creative specialists. In short, SignalWest offers the agility to deploy the best pros on the planet to your project.
We custom design the perfect PR and communications team for your business at a fraction of the cost of a conventional agency. Why pay the tariff of a traditional "bricks & mortar" agency when you can source the brightest talent at a fraction of the cost?
Your account is served by a team of mid to senior level agency and business experts, guaranteed.
The word retainer is not in our vocabulary. We bill on the project, which is tied to measurable outcomes.
Our network of talent is wide but cozy. We scale our teams to manage projects large and small.
We're human; your client experience is highlighted by the personal touch of collaborating with our caring team members.
We bring our best to work & meet every communication challenge you throw at us with a smile.

Product Communications
We design communication programs to promote news about clinical data, medical devices and therapeutics using proven media campaign techniques to reach patients, healthcare audiences, hospitals & more. Our deep experience working in regulated environments means our clients enjoy peace of mind knowing we will quickly deliver product messages that are regulatory-compliant as well as effective in reaching patient & customer groups.

Content Development
Writing and editing clear, concise and compelling prose is our stock in trade. Whether we're developing content "from the ground up" or managing a combination of our own copy and fresh content from other relevant sources, we know how to deliver your key messages through press releases, feature stories, blogs, videos, and newsletter articles that flow.

Health Awareness
Want to grow health, disease or therapy awareness with an audience or patient community? We design and execute health awareness campaigns that educate, motivate and drive specific actions. We also help clients build strategic partnerships with healthcare associations and advocacy groups that share your goals.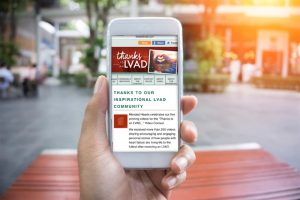 Digital Strategy
We use the newest technologies to connect you with your audiences via their preferred channels in order to educate, engage and persuade. Using outreach websites, user-generated content, engagement campaigns, digital publications, news sites, e-newsletters and more, we help clients reach patients, physicians, employees, and other groups to motivate specific actions.

Employee
Communications
To serve others in today's challenging healthcare environment, your associates need to be well-informed. We craft and execute strong-as-steel employee communication programs using websites, town hall presentations, leadership communications, and a variety of internal publications to nurture an engaged workforce that can better serve your customers.

SignalWest helped 
St. 
Jude Medical design and execute an innovative direct-to-patient campaign to educate and inspire those living with heart failure. The goal of the video campaign was to feature patient stories as a way to raise awareness for 
Left Ventricular Assist Devices (
LVAD
s)
 as a potentially life-saving treatment.
Jeff Christensen accelerated the launch of the program from 6 to 
3
 months and was instrumental in crafting communications to a wide range of audiences including implant centers and patient communities. The campaign far exceeded our goals. As a result, we are 
considering additional
patient-focused
 programs in 2017.
SignalWest is a proven PR Marketing Communications agency that has the expertise needed to design campaigns that will advance awareness for medical devices and health therapy programs. I highly recommend them.
Solomon Romano

The Diabetes Hands Foundation (DHF) brings together people touched by diabetes for positive change, to make sure that nobody living with this condition ever feels alone.
Following a thorough RFP process, we selected Jeff Christensen to manage a major media effort to expand our footprint in hispanic markets in the state of California. The SignalWest team was chosen over other marketing and PR communication firms because of their creative ideas, ability to deliver a productive message, and for the way they could open up new media channels quickly. As the engagement developed, we were impressed with the comprehensive coverage Jeff delivered for our message from Santa Rosa to Los Angeles. We landed a diverse media mix of exposure through print articles, radio spots and TV placements which strengthened our positioning and produced increased brand awareness for DHF.
Working with Jeff delivers a big pay off. Our foundation is now recognized as a trusted key player in the hispanic market. We maximized every media opportunity thanks to Jeff who did an amazing amount of homework and was on the front lines with our team during media events when it mattered most.
I've known Jeff Christensen for nearly 10 years and highly recommend the SignalWest team for helping organizations like DHF achieve their PR and marketing communication goals.
Manny Hernandez